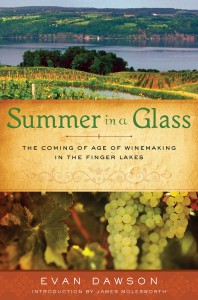 I don't often use this blog to talk about personal things, but I think it's time I change that. You see, today is the official launch day of my amazing husband's first book, Summer in a Glass: The Coming of Age of Winemaking in the Finger Lakes. To say that I'm a proud wife would be a huge understatement. This has been three years of very hard work (ok, and a little bit of wine drinking) – and today it's finally available for everyone to read.
Is this a book about wine? Yes. Is this a book about people? Absolutely. Will you inexplicably find yourself reaching for a tissue after every chapter? Don't try to resist – it happens to everyone.
Since I'm more of a visual person, I'm going to leave the writing to Ev and point you to the amazing book trailer below. If it catches your attention, I'd love for you to head to the Summer in a Glass website and Facebook page. Here you'll be able to read an excerpt from the first chapter, see what others are already saying about the book and look at the full listing of fun book events we're planning for the spring and summer.
I may be a little biased, but I know this is a book you'll love. 🙂 Thank you, thank you, thank you!
Here's a behind-the-scenes look from the trailer shoot with Evan and Peter Bell from Fox Run Vineyards on Seneca Lake. I'll have more trailer pictures to share soon!